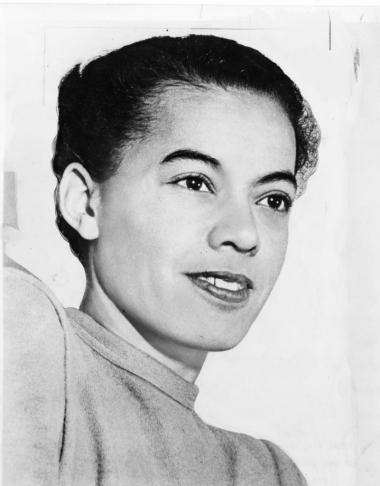 Pauli Murray (1910–1985), born Anna Pauline Murray, was an activist, lawyer, educator, poet, and Christian minister (in 1977—the first black woman Episcopal priest).
Born on November 20, 1910, in Baltimore, Maryland, she grew up in Durham, North Carolina, and then studied at Hunter College in New York City. She earned a bachelor's degree from Howard University, a law degree from the University of California Boalt School of Law, and a doctor of jurisprudence from Yale University, becoming the first African American to earn that degree. 
As a human rights and civil rights advocate, she exchanged ideas with and worked with leaders such as Eleanor Roosevelt, Thurgood Marshall, and Philip Randolph. Together with George Hauser, James Farmer, and Bayard Rustin, she founded the Congress of Racial Equality (CORE), and she is recognized as one of the founders of the National Organization for Women (NOW), an organization she described in its planning stages as an "NAACP for women." She explored her African roots during a trip to Ghana. She wrote poetry, fiction, and nonfiction, including her autobiography, Song in a Weary Throat: An American Pilgrimage (posthumously, 1987), and the life story of her maternal grandparents, presenting ordinary people whose life experiences are representative of African Americans, in Proud Shoes: The Story of an American Family (1956).
She died from cancer on July 1, 1985, in Pittsburgh, Pennsylvania. A biography, Jane Crow: The Life of Pauli Murray, written by Rosalind Rosenberg, was published in 2017.