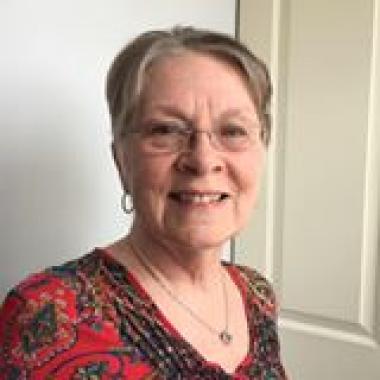 Linda Wolfe Keister is a seasoned nonfiction writer who has written a nonfiction book, magazine feature articles, and a fortnightly column. She also has written, researched, and edited communication materials for nonprofit organizations, associations, government agencies, corporations, and individual authors. Also a respected editor, Linda has taught grammar, proofreading, basic copyediting, and advanced copyediting to career professionals at Georgetown and George Washington Universities in Washington, D.C. She also has taught writing in the corporate setting. Always willing to share her knowledge of her crafts, she has lectured, directed seminars, participated on writers' panels, appeared on television and radio, and served as a judge for a children's book award.
Beyond her life as a writer, Linda is a human rights activist who, since the 1960s, has marched, walked, and protested in many movements—the Civil Rights Movement, the Anti-War Movement, the Women's Rights Movement, the Anti-Apartheid Movement. She now spends a lot of time in the streets for so many issues: Science, Environment, Homelessness, Pride, March for Our Lives, Suicide Prevention, FamilesBelongTogether.
Why Did a White Woman Write the Book and Create The Black Names Project? The author says...
When the original book was little more than a twinkle in my eye, and I dared to express my ideas for writing a book about African-American names, I frequently found myself facing the same question: "Why are you writing about African-American names? You'll just perpetuate them." Such comments simply added fuel to the fire that created the rage that spawned the idea that wrote the book and created the website. In fact, back in the 1990s, it was a comment made by my daughter's boss regarding incoming applications for a job opening: "If the name is LaTonya or Shannell or anything like 'that,' just throw away the application." My daughter refused to be part of such discriminatory actions and quit her job. In the aftermath, we talked about names, about the importance and sacred quality of each person's name.
Thus came the idea for a gift to the African-American community in celebration of "those names" and all the names that express the richness and diversity of African-American culture. My gift was going to be the book—but the joke was on me. I was the one who got the gift. Not only did the book take on a life of its own, the people whose names fill the pages provided content far richer than I ever imagined. What a remarkable experience the research was and continues to be—moving through pages of history that previously were strangers to my bookshelf. In the process, my own life has been enriched. I find that I have changed from feeling respect for those people of African descent to feeling admiration and, now, to experiencing a feeling that is almost envy—with a desire to capture some of the fortitude, perseverance, and spirituality that have enabled an oppressed people to survive and overcome and succeed.
The true beginning of this book was born at the feet of Martin Luther King, Jr., a man whose life and words changed my life forever. The Civil Rights Movement freed me from the stranglehold of a conservative upbringing, enabling me to fully experience the message of my Christian faith—to love all of God's children. I felt free to wear pierced earrings and sling-back shoes (both of which my mother said only "colored people" wore). I embraced new friendships that had been forbidden in my growing-up years.
During the 1980s, my travels to Africa—to Kenya in 1986 and to South Africa in 1987—further girded my interest in and respect for the people of this beautiful continent. The kindness of the people was unlike anything I had ever experienced.
When I joined an African-American writers group in the mid-1990s, I gained a life-long friendship with the late Deborah Parker, whose presence enriched my life in many ways and whose words of faith and wisdom remain with me after her passing in 2017. After attending church with her at the Metropolitan Baptist Church in Washington, DC, and celebrating a beautiful life at her mother's funeral in Waverly, Virginia, I said to Debbie, "Every time I worship at your church, I come away feeling beautifully black and Baptist."
Now in the 21st century, the rhetoric and focus have changed. As a white woman of privilege, I am newly examining my part in the continuation of racism and making efforts on a personal level to step more fully into the African-American experience. I invite each visitor to The Black Names Project to join me by becoming an Advocate for Racial Justice.