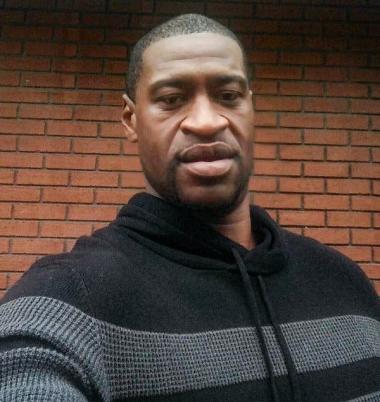 On April 20, 2021, a jury found Derek Chauvin guilty of second-degree unintentional murder, third-degree murder, and second-degree manslaughter. The convictions stemmed from an incident on May 25, 2020, when Chauvin, a police officer on the Minneapolis, Minnesota police force pressed his knee against the neck of handcuffed George Perry Floyd, Jr. (1973–2020) for nine minutes and twenty-nine seconds, keeping him pinned to the ground while George repeatedly said, "I can't breathe." The incident was captured on camera. Officer Chauvin was fired and charged with second degree murder, and the three officers with him at the crime scene were also fired and charged with aiding and abetting second degree murder and aiding and abetting second degree manslaughter. Hundreds of protests against police brutality broke out across the United States and in other countries.
On June 1, 2020, the Hennepin County Medical Examiner released an updated autopsy report that ruled George's death was a homicide—that his heart and lungs had stopped functioning "while being restrained" by police officers. The report says that George died due to "cardiopulmonary arrest complicating law enforcement subdual, restrain, and neck compression." It also included "other significant conditions," such as fentanyl intoxication, recent methamphetamine use, and existing heart disease. An earlier autopsy report had indicated "no physical findings that support a diagnosis of traumatic asphyxia or strangulation."
On June 16, 2020, the Minneapolis Police Department released dispatch recordings and 911 transcripts that revealed three people, in real time, expressed concern to the police department about the officer's use of force on George. A dispatcher watched on surveillance camera as Chauvin continued to press his knee on George's neck and alerted a supervisor. A 911 transcript from an off-duty firefighter who witnessed George's death shows the firefighter saying, "I literally watched police officers not take a pulse and not do anything to save a man....this dude, this, they f*****g killed him." In the transcript of the second 911 call, the caller says an officer "pretty much just killed this guy that wasn't resisting arrest." The caller then asks to speak with a supervisor.
On May 7, 2021, a federal grand jury in Minneapolis, Minnesota, returned indictments that charge former Minneapolis Police Department officers Derek Chauvin, 45; Tou Thao, 35; J. Alexander Kueng, 27; and Thomas Lane, 38, with federal civil rights crimes for their roles in the death of George Perry Floyd, Jr., as well as several additional indictments.
George, born in Fayetteville, North Carolina, and raised in Houston, Texas, grew up in Houston's Third Ward neighborhood, played football and basketball at Jack Yates High School, and played basketball at South Florida State College in Avon Park, where the "gentle giant" averaged 12 to 14 points per game. He moved to Minneapolis for a fresh start and to be a better father, according to former NBA player Stephen Jackson (San Antonio Spurs), who was a long-time friend of George's and who called George his twin. Known as "Floyd" to his friends, he had a reputation for having a big heart, having his friends' backs, being a fun person to be around, and owning up to his own mistakes.
In Minneapolis, George had worked as a truck driver and as security for a restaurant for five years, before losing his job because of the coronavirus pandemic.