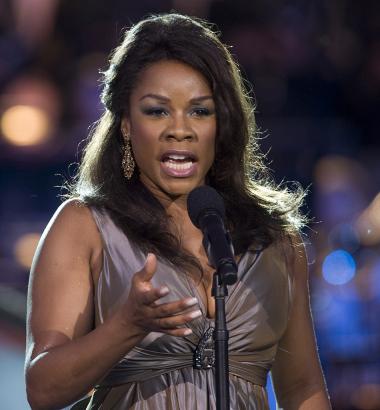 On September 25, 2020, operatic mezzo-soprano Denyce Graves (1964–    ) sang her final songs (the spiritual "Deep River" and "American Anthem" by Gene Scheer—"America, America, I gave my best to you") for one of her fans—Ruth Bader Ginsburg—during a ceremony honoring the life of the late U.S. Supreme Court Justice at the U.S. Capitol building. Denyce, one of Justice Ginsburg's favorite singers, also sang at the funeral of the justice's husband, Marty, in 2010.
Born and raised in Washington, D.C., Denyce began singing gospel in the church choir at a young age. She graduated from the Duke Ellington School of the Arts (1981), a prestigious Washington public school, and secured a scholarship to study at Oberlin College and Conservatory in Ohio. She gained exposure singing the title roles of Carmen (Bizet) and Samson and Delilah (Saint-Saëns) with the Houston Grand Opera (1988–1990) and made her debut at The Metropolitan Opera in New York City during the 1995–1996 season. Since then, she has sung at opera houses throughout the United States and the world—the San Francisco Opera, the Washington National Opera, the Royal Opera House (Covent Garden, London), Teatro alla Scala (Milan), Wiener Staatsoper (Vienna), and Opéra Nationale de Paris. In addition to excelling in her concert and operatic roles, Denyce has also performed from crossover, patriotic, and spiritual repertoires.
In 1998, Denyce was honored with an honorary doctorate degree from her alma mater, Oberlin. In 2003, she served as Cultural Ambassador for the United States, traveling to Poland, Venezuela, and Romania for the State Department. In September 2016, at the opening of the National Museum of African American History and Culture, she sang "Lift Every Voice and Sing" (Johnson and Johnson) with the Voices of Tomorrow children's choir. She was appointed Rosa Ponselle Distinguished Faculty Artist/Voice at the Johns Hopkins Peabody Institute.
Amazon Resources (paid links)*: