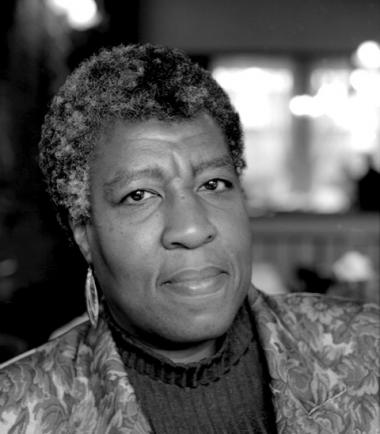 In 1993, science fiction writer Octavia E. Butler (1947–2006) wrote about a dystopian future in California in the early 2020s. In 2020, 27 years after The Parable of the Sower was published—and 14 years after the author's death—the book landed on the New York Times Best Sellers list.
Born Octavia Estelle Butler in Pasadena, California, she was raised by her widowed mother and her grandmother. She earned an Associates of Arts degree from Pasadena City College (1968) and embarked on her writing career in 1970. Her dystopian writings, which ranged from the distant past to the future, explored themes such as Black injustice, political disparity, women's rights, and global warming—themes that would not take hold in the literary marketplace until later in her career. Critics praised her social observations, her strong characters, and her lean prose.
In 1985, award-winning science fiction writer Octavia Estelle Butler (1947–2006), for her novella Bloodchild, won three of science fiction's highest honors—the Nebula Award (Science Fiction Writers of America), the Hugo Award, and the Locus Award. In 1995, she received the MacArthur Foundation "Genius" Grant, becoming the first science fiction writer to receive the grant. Her novels and series include Patternist (1976), Kindred (1979), Xenogenesis (1987), Parables (1994, 1999), and Fledgling (2005). Her novella Bloodchild was published with other shorter writings in Bloodchild and Other Stories (1995).
It was after Octavia's death in 2006 at her home in Lake Forest Park, Washington, that the themes of her works became more relevant, with her work being taught in colleges and universities throughout the United States. She was honored posthumously with the Solstice Award (2012).
Amazon Resources (paid links)*: