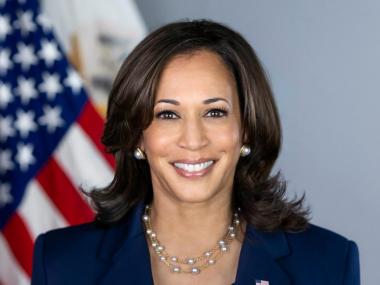 On January 20, 2021, Kamala Devi Harris (1964–    ), called "Momala" by her husband's children, was inaugurated as vice president of the United States of America, becoming the first woman and the first person of African and South Asian descent to hold that office.
Kamala was born in Oakland, California, to Shyamala Gopalan, a cancer researcher, who was the daughter of an Indian diplomat, and Jamaican-born Donald J. Harris, an economist who taught at Stanford University. Her parents divorced when she was seven years old, and, at age twelve, she moved with her mother to Quebec, Canada, where she learned French, organized protests, and graduated from high school. After graduating with a bachelor's degree in political science and economics from Howard University in Washington, D.C. (1986), Kamala earned a law degree from the University of California Hastings College of the Law in San Francisco (1989). She was admitted to the State Bar of California in 1990.
After working as a deputy district attorney and district attorney in Alameda County, Kamala was elected attorney general of California in 2010, becoming the first female and the first African American to hold that position. Just two years later, at the Democratic National Convention, she gained national attention after delivering a powerful speech. In 2014, she married attorney Douglas Emhoff and, the next year, declared her candidacy for the United States Senate, running for the seat held by Barbara Boxer, who was retiring. Her campaign focused on immigration and criminal-justice reform, increases in the minimum wage, and protection of women's reproductive rights. She easily won the 2016 election, becoming the first South Asian American to serve in the U.S. Senate and the second African-American woman. As a U.S. Senator, Kamala served on the Homeland Security and Governmental Affairs Committee, Select Committee on Intelligence, Committee on the Judiciary, and Committee on the Budget. In 2019, she declared her candidacy for the 2020 U.S. presidential election but dropped out of the race before the end of the year. In 2020, Joseph R. Biden selected Kamala as his running mate, saying she was "a fearless fighter for the little guy, and one of the country's finest public servants." In November 2020, as part of the Biden-Harris ticket, she was elected vice president of the United States, and at a victory rally in Wilmington, Delaware, remembered her mother with these words:
"She maybe didn't imagine quite this moment. But she believed so deeply in America where a moment like this is possible, and so I am thinking about her and about the generations of women, Black women, Asian, white, Latina, Native American women — who throughout our nation's history have paved the way for this moment — women who fought and sacrificed so much for equality and liberty and justice for all."
Her book, Smart on Crime: A Career Prosecutor's Plan to Make Us Safer (2009; with Joan O'C. Hamilton), addresses the problem of criminal recidivism. She published two books in 2019: The Truths We Hold: An American Journey (memoir) and Superheroes Are Everywhere (memoir in children's picture-book form).