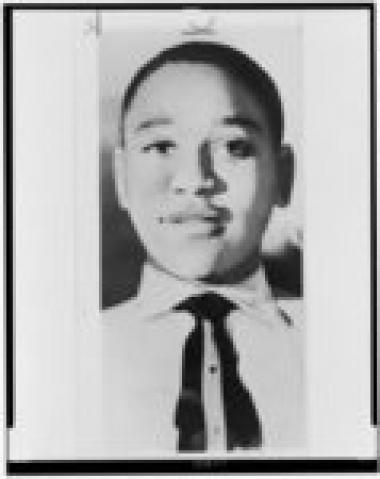 On January 11, 2022, nearly 67 years after  the brutal murder by White supremasists of Emmett Louis Till (1941–1955), the U.S. Senate passed a bill to award posthumously the Congressional Gold Medal to Emmett and his mother, Mamie Till-Mobley, whose insistence on having an open casket showing the horrific brutalized body of her son sparked the American civil rights movement. On August 28, 1955, in Money, Mississippi, two men took Emmett from his bed, made him carry a seventy-five-pound cotton gin fan to the edge of the Tallahatchie River, beat him, gouged out one of his eyes, shot him in the head, tied his body with barbed wire to the fan, and dumped him into the river. When his body was found, it was so badly mutilated that the only means of identification was a signet ring with the letters LT he was wearing. Emmett, who was from Chicago, Illinois, had been visiting family in Money and had been accused of grabbing, making lewd advances toward, and wolf-whistling at a White woman, Carolyn Bryant, in her family's grocery store. The two men—Roy Bryant, the White woman's husband, and J.W. Milam, Roy Bryant's half brother—were charged with murder, but an all-White male jury in a segregated courtroom found them innocent of murder. The trial brought to light the horrors of Jim Crow segregation in the South, serving as a galvanizing factor for the emerging civil rights movement.
Emmett's mother shipped his body back to Chicago for the funeral and burial. When she saw his disfigured body, she decided to have an open casket so people could see what the two racist murderers had done to her son. Over a five-day period, more than 100,000 people walked past the casket. Jet magazine published a photo of Emmett's body in the casket, which caught the attention of mainstream media.
Emmett, whose friends called him Bobo, was born in Chicago and grew up in a thriving middle-class, Black neighborhood, where his successful, well-educated single mother, Mamie, worked for the U.S. Air Force as a clerk in charge of confidential files. She and Emmett's father, Louis, had separated shortly after Emmett's birth. It was his father's ring Louis was wearing when he was murdered.
On August 28, 1963, exactly eight years to the day after Emmett's murder, Dr. Martin Luther King, Jr., delivered his "I Have a Dream" speech at the Lincoln Memorial in Washington, D.C.
Emmett's casket was put on display at the Smithsonian Museum of African American History and Culture in Washington, D.C.
Amazon Resources (paid links)*: