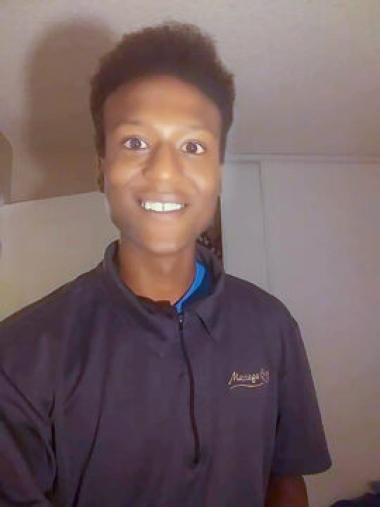 On September 1, 2021, the state of Colorado took one giant step forward in pursuit of justice in the murder of Elijah Jovan McClain (1996–2019), when a grand jury indicted three police officers and two paramedics in his death. This tragedy began on August 24, 2019, when three Aurora, Colorado police officers—Nathan Woodyard, Jason Rosenblatt, and Randy Roedema—responding to a 911 call of a suspicious person, confronted twenty-three-year-old Elijah, who was walking home from a convenience store, where he had purchased iced tea. Because he often was cold due to anemia, he wore a ski mask, and he was listening to music through ear buds tucked into his ears, dancing on his way, waving his arms. Body camera video footage shows the officers arriving in their cars and converging on him while asking him to stop walking. It is unknown if Elijah could hear them—he appears confused by their presence, and he stops walking. When several officers reach out to grab him, he recoils and says, "I am an introvert. Please respect the boundaries that I am speaking." Officers order him to "stop tensing up." After that, the visual part of the footage is jumbled, but the audio continues. When the officers pin him down using a carotid hold, the audio records Elijah saying the following:
"I can't breathe. I have my ID right here. My name is Elijah McClain. That's my house. I was just going home. I'm an introvert. I'm just different. That's all. I'm so sorry. I have no gun. I don't do that stuff. I don't do any fighting. Why are you attacking me? I don't even kill flies! I don't eat meat! But I don't judge people, I don't judge people who do eat meat. Forgive me. All I was trying to do was become better. I will do it. I will do anything. Sacrifice my identity, I'll do it. You all are phenomenal. You are beautiful and I love you. Try to forgive me. I'm a mood Gemini. I'm sorry. I'm so sorry. Ow, that really hurt. You are all very strong. Teamwork makes the dream work. Oh, I'm sorry I wasn't trying to do that. I just can't breathe correctly."
The audio also captured the officers talking among themselves about the initial 911 call and about McClain's "incredible strength," as they seem to ignore Elijah's pleas. One officer says to another, "Move your camera, dude" before he claims that Elijah is going for the other officer's gun. After more grunts and scuffling sounds, one officer says, "We have his arm," and another says, "I have his other arm." After an officer picked up his camera, the video resumes, showing Elijah lying on the ground on his side, handcuffed, with an officer jamming his knee onto Elijah's torso. As Elijah tries to roll over to vomit, an officer threatens him with a dog that will bite him. Elijah vomits. Then his body goes limp. An officer asks, "Are you okay?"—a question not to Elijah but to the officer who is on top of Elijah's limp body. The officer responds, "Yeah, I'm good." When the fire rescue team arrives later, they inject Elijah with ketamine to calm him, although the video shows his small body lying passive on the ground. One officer says he thinks Elijah is on drugs because "he has incredible strength."
Just 20 minutes after the music-listening young man was dancing down the street, he was carried into an ambulance, where he stopped breathing. On the way to the hospital, he suffered cardiac arrest and, on August 30, 2019, doctors removed him from life support and he died. The Adams County Coroner's Office determined that Elijah died from "undetermined causes," the three police officers were placed on three months of administrative leave, and the district attorney declined to file charges.
On June 25, 2020, nearly a year after his death and following an outcry and petition on social media, Colorado Governor Jared Polis signed an executive order and appointed a special prosecutor to "determine whether the facts justify criminal charges against members of law enforcement" involved in Elijah's arrest. The governor tweeted this message: "Today I signed an Executive Order designating Attorney General Phil Weiser to investigate and, if the facts support prosecution, criminally prosecute any individuals whose actions caused the death of Elijah McClain."
On June 27, 2020, demonstrators gathered in a park in Aurora for a violin vigil to honor Elijah and to remember his love of the violin. A group of violinists and cellists gathered at Aurora's Municipal Center to play medleys of violin songs, when they were confronted by police in riot gear using pepper spray to disperse the peaceful, music-listening crowd. One musician said the crowd, which included children and people holding candles and roses, were listening to the musicians playing Pachelbel's Canon when the police "went nuts—beating people with batons and spraying tear gas in their faces."
On July 2, 2020, following Aurora Interim Police Chief Vanessa Wilson's earlier announcement that she had ordered an internal investigation surrounding photos taken near the site where police officers put Elijah in a chokehold, an officer resigned. On July 3, the interim police chief fired three officers—Jason Rosenblatt and two others who were not involved in the original incident—over the photo, which reenacted the chokehold that led to Elijah's death. Wilson said the photo showed  "a lack of morals, values and integrity."  
Elijah was a native of Denver but, at the time of his death, was living with a cousin in Aurora. As a teenager, he taught himself to play guitar and violin and often played for the animals at the animal shelter. He was a massage therapist, had never been arrested in Colorado, had never been charged with a crime, and was described by family, friends, and clients as a gentle peacemaker.