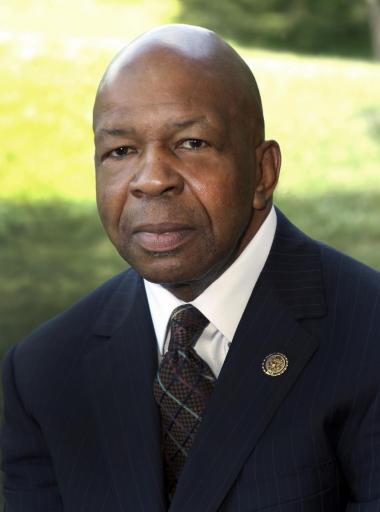 Congressman Elijah Eugene Cummings (1951–2019), born in Baltimore, Maryland, to working-class parents who had migrated from South Carolina, was first elected to the U.S. House of Representatives in 1996, representing Maryland's 7th Congressional District. He previously served fourteen years in the Maryland House of Delegates, where he became the first African American to be named as Speaker Pro Tem of that body. With a bachelor's degree in political science from Howard University, where he served as president of the student government and graduated Phi Beta Kappa, and a degree from the University of Maryland School of Law, he brought knowledge and commitment to his work as an elected representative, focusing on issues such as good quality health care and education; clean air and water; and a strong, fiscally responsible economy. In 2019, he became chair of the House Committee on Oversight and Reform, which investigates federal programs and administrations to ensure efficiency and effectiveness and which seeks reforms that prevent waste, fraud, and abuse in an effort to meet the needs of the American people. He served on many educational, transportation, and nonprofit boards and commissions and lectured at Howard University.
In July 2019, leaders and individuals across the United States came to his defense when President Donald Trump tweeted remarks about the Congressman's beloved Baltimore, such as "rat and rodent infested mess" and "very dangerous & filthy place," and about the Congressman, such as "[he] spends all of his time trying to hurt people through 'Oversight'" and calling him a "racist" and "brutal bully." In a Facebook post, Bishop LaTrelle Easterling, leader of the Baltimore-Washington Conference of the United Methodist Church, said, "It is unacceptable for the President, who is the leader of THIS U.S. city as well, to berate and disparage her and one of her representatives. Rep. Elijah Cummings is a National treasure and one of the hardest working and most productive public servants in Washington. Perhaps instead of bashing him through racialized comments, Pres. Trump should stand with him to invest in this economic hub."
Elijah Cummings passed away in his beloved city of Baltimore on October 17, 2019. On October 23, 2019, he became the first African American lawmaker to lie in state at the U.S. Capitol in Washington, D.C.