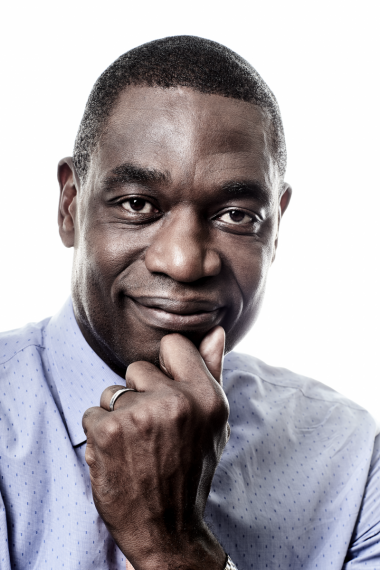 Dikembe Mutombo Mpolondo Mukamba Jean-Jacque Wamutombo is the full name of former professional basketball player Dikembe Mutombo (1966–    ), who played 18 seasons in the National Basketball Association. He was selected to the NBA All-Star Team eight times and was named NBA Defensive Player of the Year four times. In 2015, he was inducted into the Naismith Memorial Basketball Hall of Fame. Born in Kinshasa, Democratic Republic of the Congo, he speaks four western languages and five Central African dialects. He attended Georgetown University in Washington, D.C., on a USAID scholarship, where his seven-foot-two-inch frame caught the attention of the Georgetown Hoya's legendary basketball coach, John Thompson. 
Dikembe, known as one of the most charitable players in the NBA, has been cited for his contributions to his native country through the Dikembe Mutombo Foundation, Inc., which he founded in 1997 to "improve the health, education and quality of life for the people in the Democratic Republic of the Congo." One major project of the foundation, headquartered in Atlanta, Georgia, was the construction of the Biamba Marie Mutombo Hospital, which opened in Kinshasa in 2007 and was named to honor the memory of his mother. In 2021, the foundation will open the Samuel Mutombo Institute of Science outside the city of Mbuji-Mayi, the ancestral home of Dkembe's parents. In addition to serving as chairman and president of the foundation, Dkembe serves on several boards: the National Constitution Center, Special Olympics International, CDC Foundation, and U.S. Fund for UNICEF.
Dikembe's names, which are the names of his ancestors (except for Jean-Jacque, which likely is from the Belgian influence in the Congo, which was the former colony of Zaire), reflect the efforts of Mobutu Sese Seku (Mobutu Sese Seku Kuku Ngbendu Wa Za Banga) who, during his presidency from 1965 to 1997, created a more central and singular national identity by renaming the country and cities and mandating that people abandon their Christian names for names that would reflect authenticity—names from their culture before colonization. 
Dikembe resides in Atlanta, Georgia, with his wife, Rose, and their three children, Carrie, J.J., and Ryan.